you must be wondering Micromax being on the success road map now doesn't even exist in many markets why? here your queries resolved…
What happened to Micromax? After being the second biggest player in the Indian mobile technology companies, is it on the verge of being an extinct brand? so what happened to it…
---
What happened to micromax? – Overview of Fall!!
Many founders of the Indian smartphone market were Nokia and Samsung dealers. Micromax was Nokia's distributor under the Micromax Informatics brand name, their main business being Payphone.
Upon Nokia sold its payphone company, Micromax began importing outdated Chinese products, rebranding them, and selling them under the Micromax brand. 
Once Chinese vendors saw their old phones being hit enormously in India they started selling their new phones with tight margins under their own brand.
Micromax, a privately owned business, four founders owned 80 percent of the business.
Having encountered strong pressure from other Chinese vendors in India, they recruited people from Airtel, Sequoa and even Samsung India's leader, but founders never authorized them to figure independently, refused stock options, and put people on top of things of 'misappropriating fuel bill.'
One among the founders, Rahul Sharma started his own venture YU. There was internal strife among the founders.
Click here to know about samsung history
---
Micromax journey!
Although much said about the climb to the success of Micromax, not much has been said about the journey.
Within two years of its establishment, Micromax was one of the country's largest telephone distributors.
Four founders started the Company:
Rajesh Agarwal
Vikas Jain
Rahul Sharma
Sumeet Kumar
Micromax 's approach has been clear from its conception, to be the best at what they are doing and never accept repetition.
read entire micromax history here
---
Reasons why failed! – things happened to Micromax
Can't satisfy retailers:
When Samsung toppled Nokia as India's largest smartphone seller, they actively promoted their phone, supposedly charging retailer a commission of 12 percent, Micromax also started doing an equivalent .
However, OPPO and VIVO paid 18 percent, also as incentives to put their banner in stores. The retailer started pushing customers with these brands
Don't have higher price range models
Micromax competed in budget group 5000-10000. There's cut-throat rivalry therein area, insufficient advantage.
They never tried to get on the premium phone market, which is additionally the foremost profitable segment. within the mid-range segment, they launched Micromax Turbo, Hollywood star Hugh Jackman hired.
Micromax was losing resources because the Chinese company reduced prices by moving online and flash sales.
Didn't update themselves with time
Micromax has 40 phones in segment 5000–10000! Whereas Xiaomi had either 3 or 4. Indian brands had no targeted customer base.
In artifact that they had little attention, no new software updates.
Once Chinese stopped using metal body they decided to use plastic. Chinese company often frequently gave notifications.
Micromax features a Cyanogen android OS license that was the simplest customizable OS , but sadly micromax didn't use this OS .
Fail to satisfy selfie lovers
India may be a selfie mad country, 60 percent of the world's selfie-related death happened in India in 2014, OPPO and VIVO promote their phone as a selfie camera, it's like Indian brands haven't any idea.
I recall a Samsung India CEO talk, where he said they'd only copy the patterns and invent.
Unexpected JIO 4G Entry
The JIO phenomenon skipped by Micromax and other Indian brands when JIO secretly established the optical cable network, Indian brands struggled to foresee the Jio movement.
When Jio launched, 70% of their phone was 3 G, it took months to catch up when the Chinese were ready for 4G. Jio's Lyf brand got a JIO-wave ride.
While the Micromax collapse assumed to possess attributed to the Chinese invasion, it's not the entire reality.
The collapse of the organization attributed to their own acts, which became caught on the incorrect side of the chaos.
Micromax had about 40 mobile devices varying from Rs 5,000 to Rs 10,000 and these supported the 2G and 3G network.
Things soon changed when Reliance Jio launched its 4 G network and commenced distributing free 4 G SIM cards to the whole world.
This drastically changed the whole landscape in both the smartphone industry and therefore the telecom sector.
Decision making failure
Micromax tried to boost money, Alibaba offered one billion dollars to shop for 25 per cent stakes.
Yet then both scrapped the agreement because Alibaba needs shares to be managed and launches its own AliYun os which Micromax refused. Softbank earlier even walked faraway from a similar deal.
---
End of Era
In hindsight, Micromax's collapse seems almost inevitable — it had only a matter of your time before China's factories saturated their domestic market and searched for subsequent big market to sell to.
And India's complete absence of an area manufacturing ecosystem, Prime Minister Modi's flawed Make In India policy notwithstanding, made the country a ripe target.
"Make in India never succeeded because nobody was manufacturing in India, only assembling. The Indian customers made it clear they need the most cost effective product, and although the assembly ecosystem in India is improving, the ecosystem doesn't exist here yet, compared to China,"

"You have cheaper labour here, but it can't replace poor infrastructure, or business-unfriendly policy."

Tiwari, the analyst from Forrester
Even today, market-leader Xiaomi has localised tons of the components that enter its phones — batteries, box, connectors, cables — but most of the complex work continues to done back range in China.
subsequent step is that the camera, although lenses are very complex and will be a speed-bump therein roadmap.
But the particular processor isn't getting to happen here anytime soon.
"If you check out Japan, or China, it's after decades of investment that they've reached now , so you can't expect it overnight,"

Xiaomi now had seven manufacturing and assembly facilities in India.

Xiaomi's Sharma
Micromax lives on, but it's unlikely that the corporate will recover its once commanding position within the market.
click here to know how xiaomi history invades indian smartphone market
"People wont to love our products, but the ecosystem didn't support us,"

"The government didn't support us, unlike in China."

former Micromax employee now working for a startup in Bangalore
---
Stock Exit!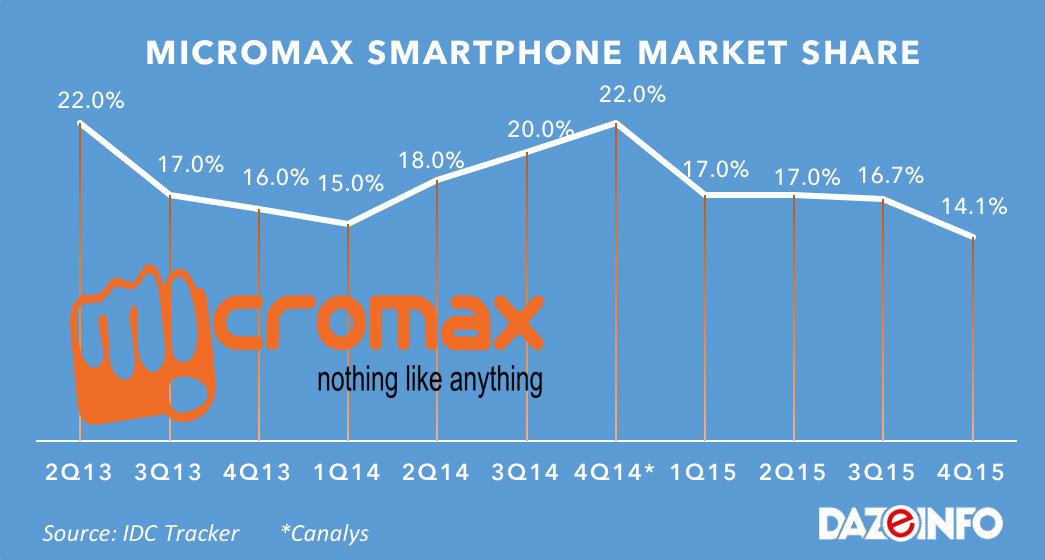 The following shareholders are selling their shares in Micromax within the buyback as per RoC filings:
Wagner Ltd, an affiliate of TA Associates, which once owned 14.82% but has pared stake in tranches
Madison India Capital HC, which owns 0.39%
Milestone Trusteeship Services Pvt Ltd, in its capacity as a trustee of Madison India Opportunities fund that owns 2%
Sandstone Investment Partners I fund, holding 2.65%
SCI Growth Investments II, a fund of Sequoia Capital owning 0.65%
Sequoia Capital India Investment Holdings III that has 250 residual shares
Chinese semiconductor firm Spreadturm Hong Kong Ltd remains invested within the firm with a 1.17% stake, as per the filing.
Navkendar Singh, director of research at IDC India, virtually ruled out a comeback for Micromax, saying Chinese mobile brands are now experienced and seasoned to figure during a diverse market like India.
"All this makes it next to impossible for India brands like Micromax to form a comeback and stay relevant directly as a brand,"

Navkendar Singh, director of research at IDC India
Chinese brands today control quite 75% of the Indian smartphone market as per Counterpoint.
Indian law doesn't permit the sale of shares at a price below the fair market price.

"Hence, Micromax's valuation going to be a minimum of Rs 515 crore,"

"In 2010, the minimum valuation was anywhere between Rs 1,250 crore to Rs 1,450 crore."

Yadav of Veratech
Micromax is trying to remain relevant by partnering with other brands for marketing and distribution tie-ups, using their manufacturing capacities and capabilities to supply phones for a few other brands or markets outside India.

Navkendar Singh, director of research at IDC India
Micromax is trying to remain relevant by partnering with other brands for marketing and distribution tie-ups, using their manufacturing capacities and capabilities to supply phones for a few other brands or markets outside India.

Navkendar Singh, director of research at IDC India
---
Whatever happened to Micromax, Is a comeback possible?
So, will it's easy for Micromax within the smartphone industry to form a comeback? Singh thinks it's extremely hard.
"Micromax needs tons of monetary muscle so as to fight these guys (Chinese players),"

Micromax must check out a few things, and that they got to get ducks during a row and specialize in the budget.

Navkendar Singh, director of research at IDC India
Micromax has always functioned and may still perform by that specialize in the budget segment and giving customers a superb product with an ideal value-for-money proposition.

the corporate still features a chance to compete within the lower-end section because the vacuum remains and not many brands jump into the entry-level category starting from Rs 500 to Rs 3000.

If the organization could put a tool below this price point it'll make its impact known on the market.

Navkendar Singh, director of research at IDC India
But it is a ton of ifs and buts.
How are you able to introduce a smartphone and offer value to the buyer within the Entry Level segment?
How does one educate a client?
"A lot of cash is required for this, tons of heading back to the drafting board is required, which I'm sure Micromax won't ready to do. Because the size and volume required are too enormous, and thus investment must too huge, "

Navkendar Singh, director of research at IDC India
For Micromax, it is a tale of a corporation that changed from nobody to the amount one disruptor to the one that dropped.
Corporate has long enjoyed Indian consumer confidence and love.
The corporate was once a consumer lover now faces a struggle to achieve this market.
It's time the brand proved its mettle or we could soon see another smartphone exiting the business in India.
click here to know world's most expensive phones
---
Summary: what happened to Micromax?
From a customers perspective, they did not introduce products within the market.
Micromax was doing great, its products were the simplest value for money, there was a time when a mobile handset got sold call at a couple of minutes, sound familiar?
It was the nascent stage of Xiaomi entering the market, it had been caught up by not being available at stores, and only at flash sales.
People were apprehensive, this is often once they should have worked harder as a contest .
Although the products of every company similarly priced, Xiaomi started becoming popular, due to the number of handsets, and Micromax not really producing new stuff.
That mistake cost them dearly, now micromax isn't what it wont to be, there was a time when Micromax made fun of Samsung whose phones were so expensive that that they had to be gotten on EMI's, and now it placed an excessive amount of faith on its customers, and underestimated the competition, the result being obvious.